The Global Advantage Program (GAP) from GlobalPost is a consolidation service for international shipments that is included with your Stamps.com account through ShipEngine Carriers.
Stamps.com's GlobalPost services offer you a very economical way to ship international packages that weigh less than 4.4 pounds. Through simplified service options, the shipping costs are greatly lowered. For more information, read the Stamps.com page about using GlobalPost.
Note
The Global Advantage Program is only available to merchants shipping from the United States.
Benefits of GAP:
Up to 65% in savings over retail USPS international shipping costs.

$100 insurance included for all shipments.

6-10 day delivery time with priority services.

No need to print customs declaration forms.

Ships to over 200 countries. (Standard and Economy services differ in supported countries.)
How GAP works:
A GlobalPost label will be automatically printed for your shipment when you make a Create Label request for one of the following USPS international services:

USPS First-Class Mail International

USPS Priority Mail International

USPS Priority Mail Express International

The package ships from your drop-off location to your regional GlobalPost Shipping Center.

GlobalPost processes the package for international delivery.
The label you print will be a domestic label addressed to the GlobalPost Shipping Center.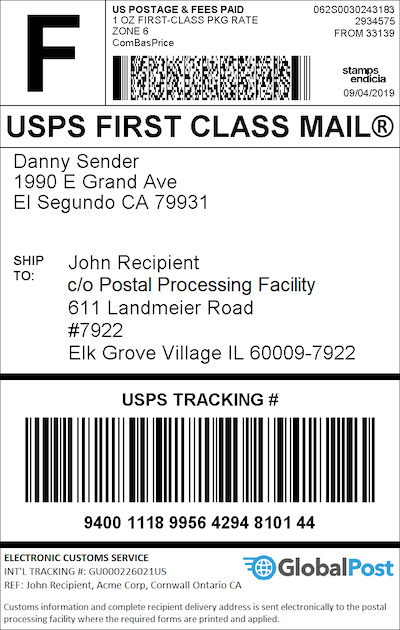 GlobalPost offers Standard (priority), Economy, and SmartSaver services. Each service has specific size and weight restrictions. A list of services, with their supported package types and maximum allowed weights, is included below.
Standard

Economy

SmartSaver

Package Type

Max Weight

Package Type

Max Weight

Package Type

Max Weight

Large envelopes or flats

17.6 oz.

Large envelopes or flats

13 oz.

Large envelopes or flats

17.6 oz.

Packages and tubes

70 oz.

Packages and tubes

16 oz.

Packages and tubes

70 oz.

Flat Rate envelopes and boxes

70 oz.
For businesses that ship 10 or more international shipments per day, GlobalPost SmartSaver offers an additional 15% in savings on GAP labels!
With the SmartSaver service, you consolidate all your individual international parcels into a single, large container. You then send the large container to the sorting facility where the individual shipments will be sorted and sent on to their final destination.
By printing a GAP SmartSaver label with a scan code, the tracking for all included shipments will update when the large package gets scanned.
Contact GlobalPost to apply for the SmartSaver service.
How do I enable GlobalPost?
Reach out to our team, and we will enable GlobalPost for your account.
How do I pay for GlobalPost postage?
Postage for GlobalPost shipments is purchased using your Stamps.com postage funds.
Why do GlobalPost labels have a domestic ship to address?
Consolidation services like GAP work a little differently than major providers. Instead of shipping your package directly to the recipient, the package ships to a local consolidator sorting facility. This facility's address is what appears on the label.
The consolidator scans the barcode to retrieve the recipient information, relabels the package, and sends it to the international destination.
Why is the tracking number on my label different from what was sent to my selling channel and customer?
The tracking number on the label is only meant to get the package to the sorting facility. The new tracking number issued when the package is relabeled is the tracking number sent to your selling channel and customer.
GlobalPost Standard (Priority) tracking numbers are trackable throughout the duration of the transit. GlobalPost Economy shipments will only be trackable to the sorting facility and will not be trackable once they leave the sorting facility.
Can I insure my GlobalPost shipment?
GlobalPost automatically provides $100 of complimentary insurance coverage. Adding carrier insurance to GlobalPost shipments is not supported at this time.
If you need to insure your package for more than $100, you can use Shipsurance. The maximum declared value for a shipment is $400.
Why didn't any customs forms print out with my labels?
While customs information is required to use GlobalPost, all of the information is submitted electronically to the sorting facility. This means you don't need to print or manually submit any information. When the package is relabeled at the sorting facility, they will include the customs information with the shipment to pass customs.
Can I include GlobalPost shipments on my End of Day (SCAN) Form?
GlobalPost Economy and Standard shipments can be included on your USPS SCAN form generated through ShipEngine. GlobalPost SmartSaver shipments cannot be included.
How do I file a claim for a lost or damaged GlobalPost shipment?
Download a copy of and complete this form. Email the form as a saved attachment to info@goglobalpost.com.
Why am I receiving an error when attempting to create a GlobalPost label?
You may have a Stamps.com account with a negotiated service agreement. If this is the case, your Stamps.com account may not be eligible for the Global Advantage Program. Please contact your Stamps.com representative for further information.