The ShipEngine dashboard is a user interface that provides a centralized overview of your ShipEngine account information. This article includes overviews of the different dashboard sections.
In the new ShipEngine dashboard, you can:
Add a carrier account based in any country to a single ShipEngine account.

Set up multiple webhook URLs for the same event.

Toggle between your Sandbox and Production environments.
The Billable Actions provide a high-level overview of labels you create with ShipEngine as well as fees and costs associated with them.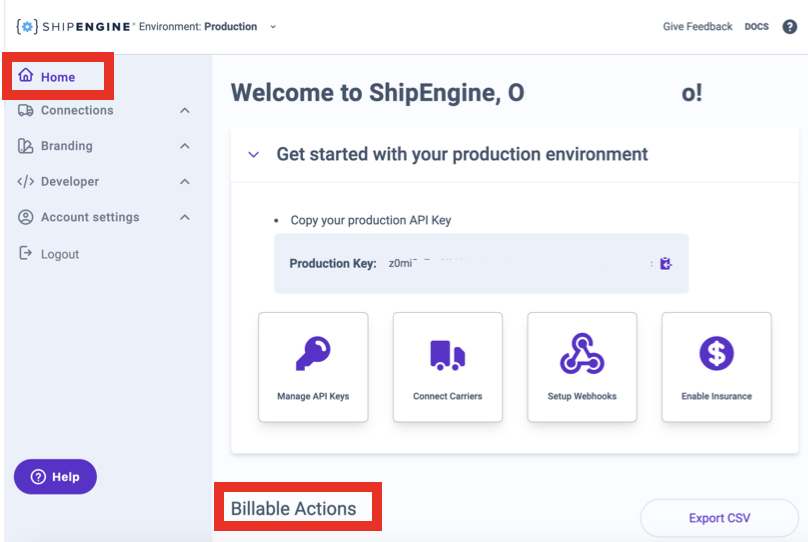 Legacy Dashboard
Usage Dashboards are available in the legacy dashboard view at app.shipengine.com. In the new dashboard, Usage Dashboards are now called Billable Actions!
US ShipEngine accounts can access a Sandbox environment. Here, you can manage your test API keys and view the provided Sandbox carriers and their corresponding carrier_id.
Click the Environment drop-down and select Sandbox to switch to the Sandbox.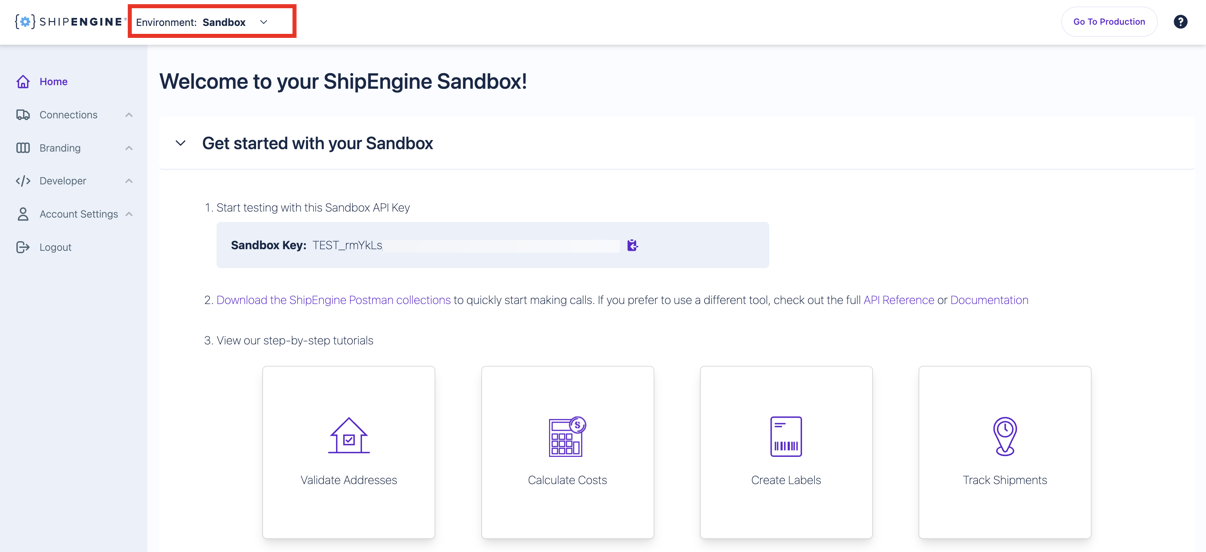 Sandbox API Keys
The Sandbox API Keys will all begin with TEST and can only be used with the provided Sandbox carriers.
The Connections section of the dashboard contains your live carrier connections as well as any order source connections you have established.
Click the Carriers section to view your ShipEngine Carrier Accounts and connect your own.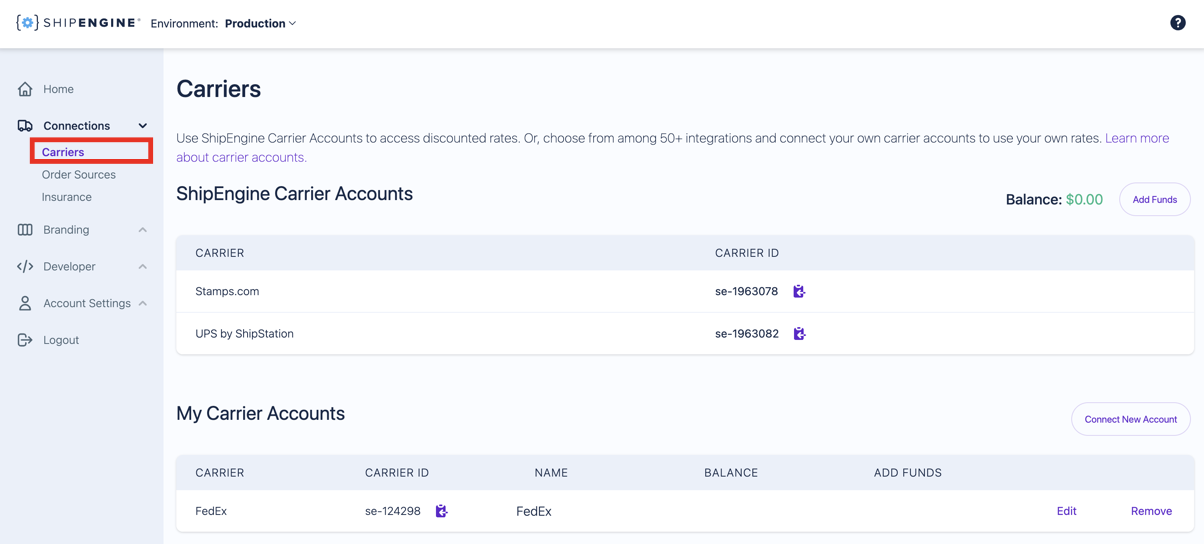 In the Insurance section, you can manage your account with our third-party insurance partner, Shipsurance. Learn more about enabling Shipsurance and adding funds.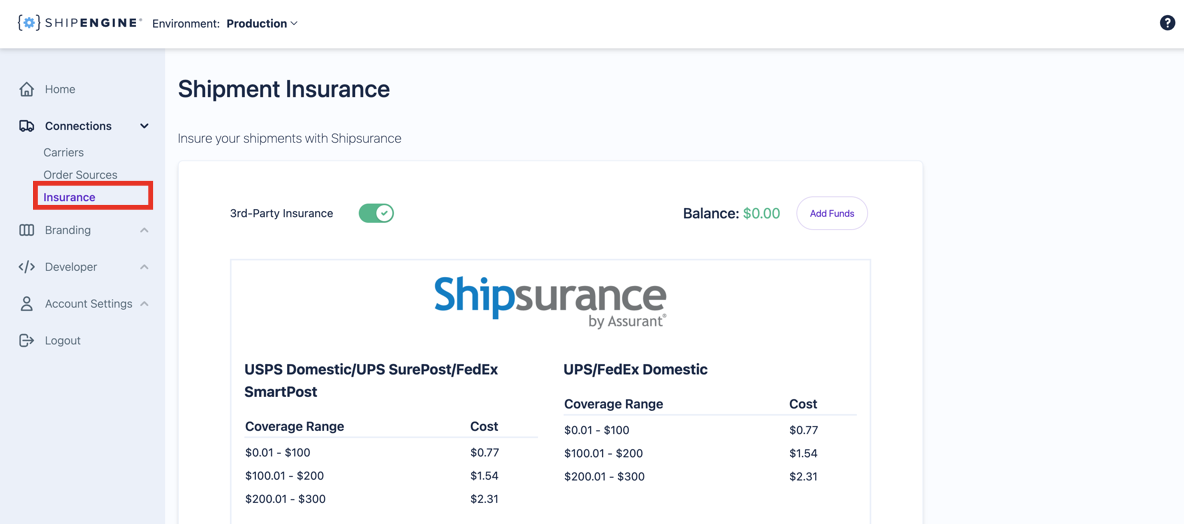 ShipEngine also offers the ability to create branded tracking pages and logos.
To create a theme for your Branded Tracking Page:
Go to the Branding section and select Tracking.

Click the Add a Theme button to open the New Tracking Theme window.

Enter your theme name, then set your company information, social media links, logo, and theme colors.

Click the Save button.
Once you've created the theme, you'll see the Theme Name and an auto-generated Theme ID that you can use as the branded_tracking_theme_guid value when you create your Branded Tracking URL .
You can also upload your company's logo to be featured on labels created through ShipEngine:
Go to the Branding section and select Labels.

Click the Add Logo button.

Enter a title in the Logo Name field, then click Upload Image to select your image from your file explorer.

A preview of your logo will appear on the example label.

Click the Save Logo button.
Once you've saved your logo, you'll see the Image Name and an auto-generated Image ID that you can use as the label_image_id value when creating labels.
Branded Labels Feature
The branded labels feature is currently only available for specific carriers and services. Additionally, carriers predetermine the placement of the logo on the label, and this cannot be adjusted.
In the API Keys section, you will find your production API keys that can be used to integrate with your live carriers and marketplaces.

In the Webhooks section, you can set up webhooks for specific events:

In the Pricing and Billing section, you can view available plan options and your payment method. You can also cancel your ShipEngine account from this section.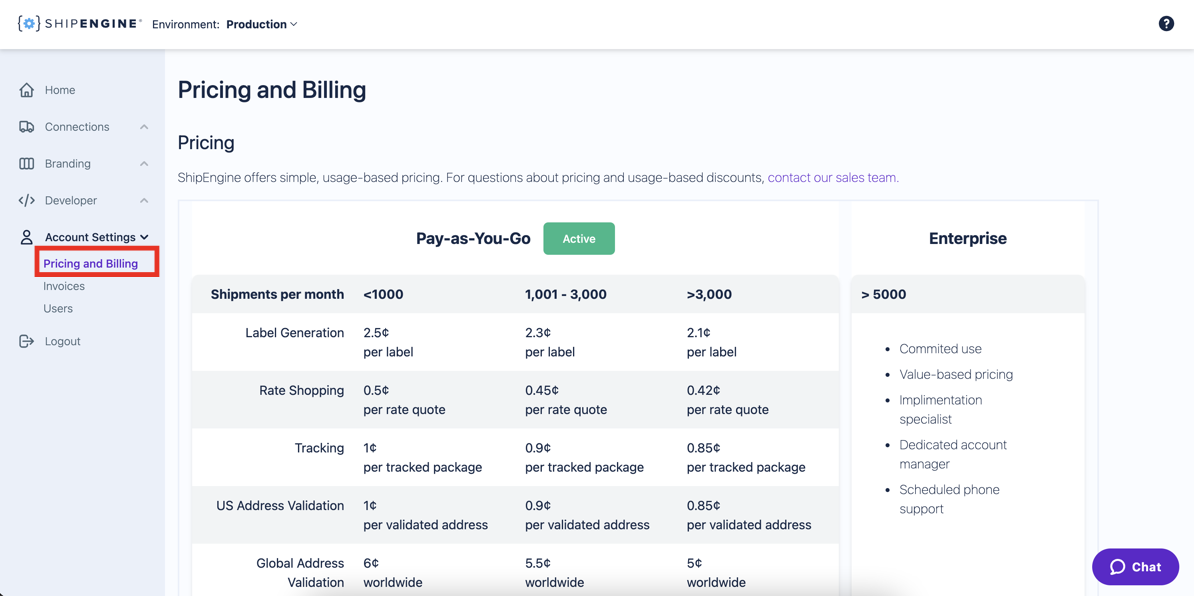 In the Invoices section, you can find all of your subscription and insurance charges billed by ShipEngine. Click Download Invoice next to one of your invoices to generate a PDF.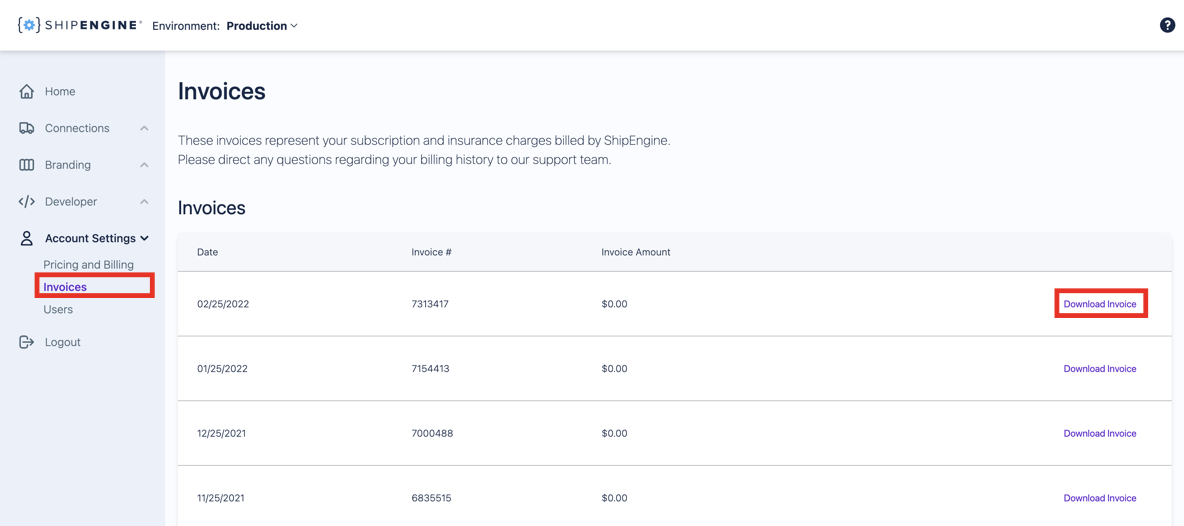 The Users section lists active users for your account. When you sign up for ShipEngine, you automatically create your first user!
Here, you can add, edit, and disable user accounts as needed.